Tips for the Armpit of Winter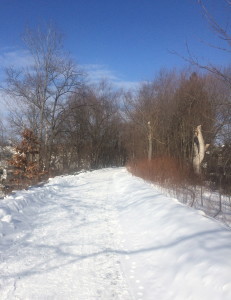 The days are getting longer! It isn't warmer here (in Massachusetts where we are buried under many feet of snow), but the light is brighter and fades slower. Many of my clients, have more trouble keeping their physical, and mental, chin up in winter, and may forget that it takes time to pass. They may have actual Seasonal Affective Disorder (SAD) or experience mood or functioning changes in winter. If you this is something that impacts you, and you, like me, experience time as now-or-not-now, and tend to forget what leads up to things, how the year unfolds, you may also forget that the darkness does not stop its effects as soon as the day is longer.
I've heard it said that February is when SAD is at its worst. The effects of sunlight deprivation accumulate over time, as do its remedies (including
light therapy, medication, and exercise); in this case guess about six weeks. So while the sun returns, your deficit of sunlight will take time to fade. Seasonal changes can be an issue even if you live somewhere warm; you may still experience a relative deficit of sunlight, and if you are sensitive, this makes a difference.
Here are some strategies to use in February if the wintertime darkness brings you down:
Get outside in the brightest possible daylight as long as possible. If you can't get out midday, get out any time the sun is out.
Research light therapy lamps; if you have a physician who treats mood or attention issues, discuss it with them. For a few, they can make symptoms worse; for many they are very helpful.
If you have a light therapy lamp, and this is something helpful to you, keep using it for another month or two.
write down on your calendar about six weeks out that this is when the darkness should start to lift from your functioning.
If you forget from day to day, put more frequent reminders in your calendar that you are still experiencing winter functioning or mood- and that the sunlight is slowly returning.
Put a reminder in your calendar now to start using any seasonal strategies for winter – for next September. If you can, put a repeating reminder for each year. Remember the six weeks I mentioned it can take for sunlight deficits to accumulate? this happens on the other side of the year, as well.
If you experience depression in winter, please contact a health care practitioner or therapist about this. Come up with a plan for support for the rest of this winter and beginning of spring, as well as next year beginning in fall. This might include exercise and light therapy, or medication changes.
Practice noticing the differences in functioning. How is your working memory? Your focus? Your energy level? Growing this awareness can serve as a point of strength.